Meet the Dentist
Dr. Clifford lives with his family in Crozet, Virginia and is excited to be opening Crozet's first pediatric dental office. He is a board certified pediatric dentist who graduated with a Doctor of Dental Surgery degree from Virginia Commonwealth University School of Dentistry. He immediately completed a two-year Pediatric Dental Specialty program at the University of Maryland School of Dentistry in Baltimore.
In addition to Crozet Pediatric Dentistry, Dr Clifford also serves as an Associate Professor in Dentistry at the University of Virginia.  Dr Clifford maintains operating room privileges at Augusta Health Medical Center as well.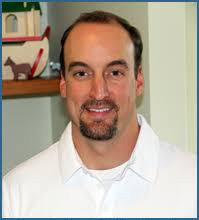 Our Philosophy
Crozet Pediatric Dentistry strives to foster a community-based dental home for children and adolescents. Our office is integrated into a neighborhood that already fosters healthy living habits and a sense of community responsibility, both of which are personal goals for our pediatric dental office. We will promote outstanding oral health in a fun and technologically advanced environment that enables parents and children to become an integral part of their dental care. We motivate patients to take pride in their personal health, thus reducing the need for unnecessary dental treatment.
Crozet Pediatric Dentistry vows to become a pillar in our community by offering dental education to area educational establishments, partnering with local businesses for family friendly functions and by supporting local charitable organizations.